I found my way to Cute-E-Shop while searching for a
Minnie Mouse
hair bow to match the TuTu I made for Layla's 3rd birthday! I got to talking with Erin and she let me review the Minnie Mouse bow & will also offer one to a Lucky MMR reader!! :)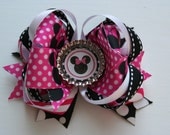 It's beautiful. The bow was made so well, it's sure to last a long time. All ends were heat sealed so they wont fray. Believe it or not, I have PURCHASED bows before that were NOT heat sealed and they were already fraying the first day we had them! Placed on an alligator clip (my favorite for Layla's super fine hair!) The ribbon is high quality & so was the bottle cap!! I bought (not from Cute-E-Shop) around 6 bottle caps bows for our favorite sports teams (Syracuse and Pittsburgh Penguins!) The picture on the front of the bottle cap kept falling off. I don't envision this happening with the type of caps used on our Minnie Mouse Bow! The bottle cap is also reversed. So the little picture is actually sitting on the inside. This is wonderful because it makes it more difficult for my little one to try to play with the little bubble that covers it. And just in case your were concerned, Nope, the edges on the bottle cap are not sharp! :)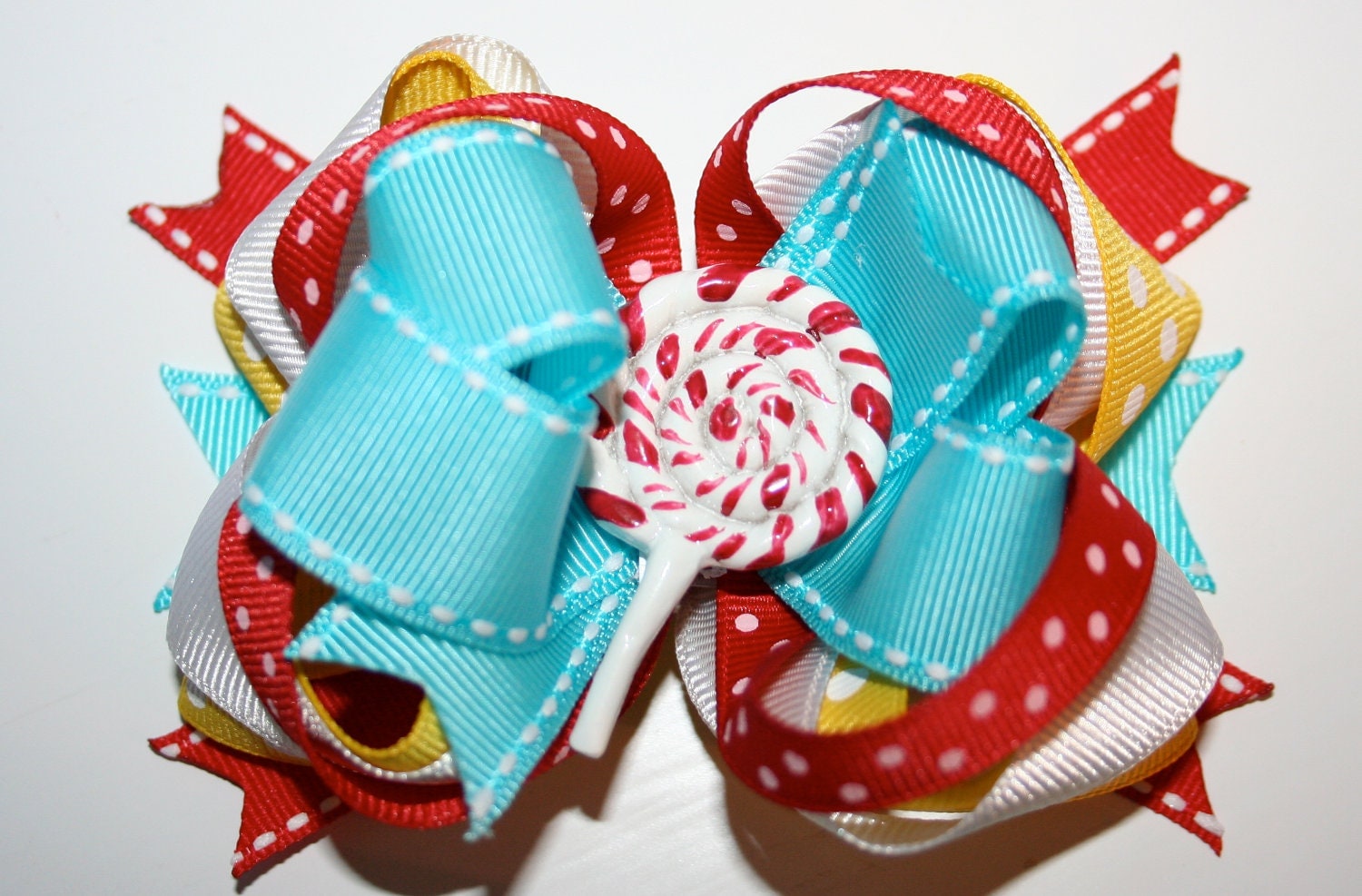 While browsing around I realized she had so much to offer! Among hair bows & headbands, Erin also makes dresses, ruffle pants,shorts & shirts (for
girls
and
BOYS
, too!) I love when you can get more than one item from the same shop! It helps build a relationship and the seller can really learn what you like and help you come up with something to fit your style that is truly unique and made just for you!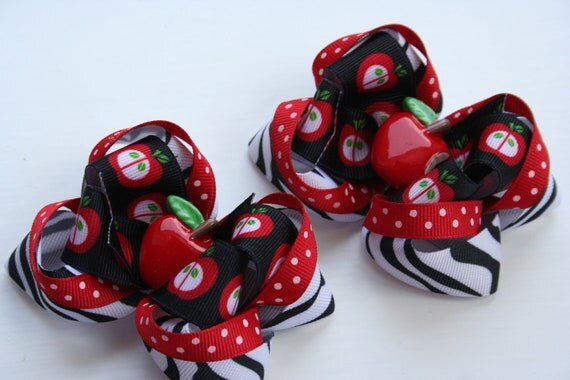 I also love when Etsy shops have facebook pages! Even more so when they update them with their newest listings, BONUS for Facebook only sales or coupon codes!
Cute-E-Shop's Facebook
is pretty active and she does post giveaways! So make sure you head over and "like" the page so you don't miss out!
Erin was such a pleasure to talk. She's so kind and it just leaps off the screen when I read her emails. That can be difficult to find & I truly appreciate that from business' big and small! I'll definitely be a long time customer of hers!
All in all, Wonderful
shop
, Wonderful owner! Definitely take a moment to check it out & enter to win your very own Minnie Mouse bow from Cute-E-Shop!!!
A little bit about Erin..(Thank you for your time!!)
Here is my try at the questions:
I have been married for the past 11 years to a man that I met in college at Texas A&M. We have 3 beautiful children, and I have been blessed with being able to stay at home with them.
I have always loved to do crafts and found so much joy in creating something new with my hands. In college, I had a job at a bow making counter in a craft store and learned the basics of bow making. I didn't start making hair bows until I had kids of my own. I started by just buying a spool of ribbon and making some hair bows for my daughter and some of my friends' little girls.
I learned how to sew right before my 3rd child (Alissa) was born and started making custom outfits and matching hair bows for her and for gifts. The more I gave, the more people told me that I should start a shop. When my daughter, Alissa was born, she had a few medical problems and ended up in the NICU for about a week. Even with insurance, we still had extra medical bills to pay. I started my shop to help pay off those bills.
With three kids and a husband that works hard so that I can be home with them, my top priority is my family. I work hard to keep my shop time for times when they are asleep...sometimes that doesn't work out, but that is what I aim to do. My older two kids, Abby and Caleb have started back at school, and I figure as Alissa gets older, I will be able to work more and more with my shop. I really love having a creative outlet and creating things for people that they will really enjoy...I guess that is why I really do love when people ask me to create custom items for them! : ) As a mother of three, I really do want to treat each customer as I would want to be treated. When you are buying something special for your little one or as a gift, I want each person to be pleased with the product and the service. I really do mean it when I say that I want people to let me know if they are disappointed...I really would want to what I could to make it right for them! : )
My inspiration comes from lots of different places...sometimes it is from a certain fabric that I see or spool of ribbon makes me think of something...sometimes it comes from my kids...what they like and what they are in to! I have also had people ask me to create custom items to coordinate with party invitations or a child's favorite colors. It is so much fun to me!
My favorite things to create are custom outfits and hair accessories. I have tried painting things and sewing larger home items or bags, but I really love children's clothes and accessories!!
Thanks for asking! : )
--Now on to the Giveaway--
To Enter you must be a MMR follower (this is not an entry)
Leave your name and email address so I can contact you.
Be 18 or older :)
You must "Like" Cute-E-Shop on Facebook tell her who sent you(1 entry)
Check out her Shop & tell me what your favorite item is! (1 entry)
Add her shop to your favorites on etsy (2 entries)
"like" her Etsy Shop (2 Entries)
Share this giveaway on your wall (2 entries, can be done once a day) Leave me the permalink
This giveaway will be open for 2 weeks! Will End on October 30.
Goodluck!