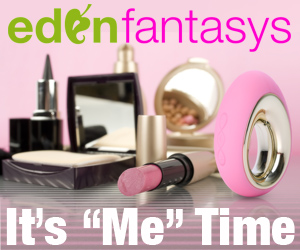 WARNING: This post contains adult content and should not be read or viewed by anyone under 18! If you are under 18, please do not continue reading this post.
EdenFantasys is not your typical adult toy store, it is that and so much more! :-D They offer an extremely large variety of sex toys in a wide price range to suit any budget. That's not all that's offered though, they also sell lingerie (sexy,more casual and even bridal!), makeup, bath products and so so much more!
EdenFantasys is celebrating Womens Day! For a limited time save 25% on any order of $75 or more plus a FREE gift! Speaking of FREE, They also let YOU choose a free gift with ANY order! How's that for awesome? It only gets better though! Eden loves giving back to their customers and their community! Join the Eden community and become a product reviewer and they'll send you free stuff to use and review! Can't beat that, or can you? Yup! Earn points for doing things as simple as creating a profile and rating a product, review or even adding a friend to your contacts. Each point represents a penny and QUICKLY adds up to dollars to convert INSTANTLY into a gift card code! They say nothing in life is free, but at EdenFantasys you can get free! ;)
I know my hubby and I could definitely spice things up in our bedroom and there's nothing wrong with that! I will be a forever customer of Edenfantasys not only for the products offered but because they like to be hands on with their community & are readily available for assistance! You can't beat their prices, promotions ( join them on Facebook for FB only discounts!) or selection! Check them out you wont be disappointed!
Disclaimer: All statements in this review are true and of my own opinion. I am a personal customer of Edenfantasys.com. I was compensated by edenfantasys for providing my thoughts as part of the Eden loves bloggers program!